by Helen | Jan 13, 2022
Overclocking GPU refers to pushing your computer graphics card harder and faster than the manufacturer designed. It is feasible for that, usually, the manufacturer will set a frequency number lower than what the GPU can actually run at.

A New World Record – Splave Overclocks NVIDIA GTX 970 to 1865MHZ
In the history of NVIDIA's GPU development, Maxwell's generation is an iconic product, because NVIDIA'S ultra-high energy efficiency starts from it. There are also many classic graphics cards in the GTX 900 series, such as the GTX 970, which once was the top seller of game graphics card on Amazon. Although has been retired for many years, in the hands of overclocking players, GTX 970 is still working.
Recently, overclocking player named Splave overclocked the GTX 970 graphics card to 1865MHz, creating a new record of 3DMark running points, and ranking first in the world in the GTX 970.
tips
3DMark is a software specially designed for testing the performance of graphics cards.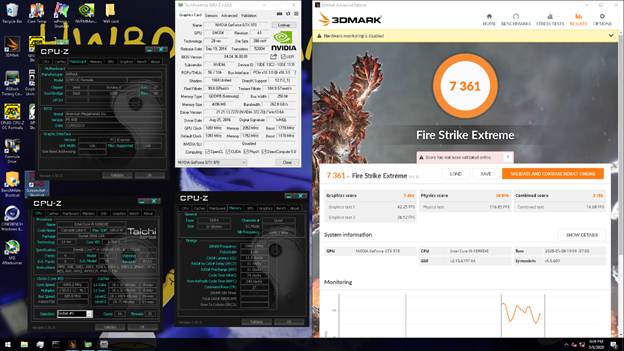 Splave used the Intel Core i9-10980XE processor, which is overclocked to 5GHz, and the ASRock X299 OC Formula motherboard. In the liquid nitrogen environment, he overclocked the GTX 970 to 1865MHz and the memory frequency to 2052MHz. Finally, he got 7361 in 3DMark Fire Strike Exteme, ranking the top.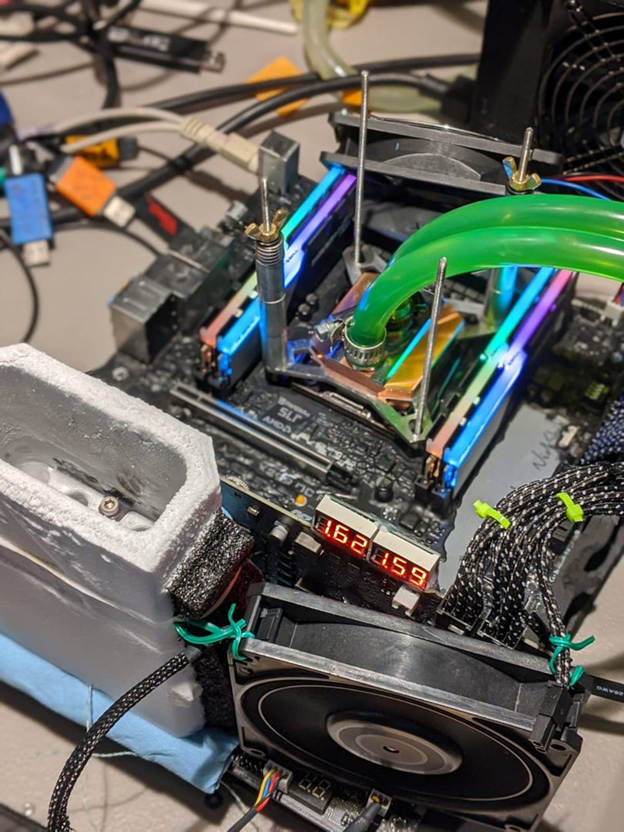 However, this is the unusual special overclocking case. For common game players, it's not recommended for the high risk. Yet, we can still do some basic overclocking without complicated operations.
Overclock GPU Is an Effective & Cheap Way to Improve PC Performance
A computer's performance decreases with the time goes by once it been taken out of the box. The older the computer's components are, the poor performance they have. Within all the components, GPU is one of the most important one which influences the operating of the machine.
For users who have high requires on computer performance, such as game players, they update their graphics card frequently to keep up with the high requirements of latest games (e.g. 1080p games)
However, the newest graphics card is expensive especially game GPU. Thus, some geeks find another way to improve their graphics card's performance without paying money or only pay little amount. That is overclock GPU and make full use of its function.
It Is Safe to Overclock GPU Now!
Though there are some potential risks for overclocking graphics card, it is generally safe for we have solutions for the risks like temperature increasing, GPU lifespan reduce, etc. We can add extra fan to dissipate the heat to control computer temperature. And, even the most talented man or the greatest software can't always overclock a GPU to its limit. The most common improve rate is 20% - 30%; its completely in a safe range.  
How to Overclock GPU NVIDIA GTX 970 Safely for Computer Fools?
When there is need, there is satisfaction. For most game players who have less or no technical skills to manually overclock their graphics card, there is professional programs which can help. The other professionals help nonprofessionals in such way to overclock their machine.
Smart Game Booster is one of the best NVIDIA GPU overclocking software. It will overclock your graphics card gently and properly. On the one hand, overclock the GPU to optimize its performance; while on the other hand, overclock not so much to avoid risk. With it, you can overdrive your graphics card in just on click! Then, it will automatically boost your GPU to increase PFS and give you a better visual effect. The following is the guide to overclock your GPU.
Step 1. Get Smart Game Booster. Download, install and launch the customized game boosting tool on your PC.
Step 2. One-click overclock PC. In the main interface of Smart Game Booster, just click the big "BOOST" in the center of the screen. Then, it will overclock your PC and optimize your whole operating system.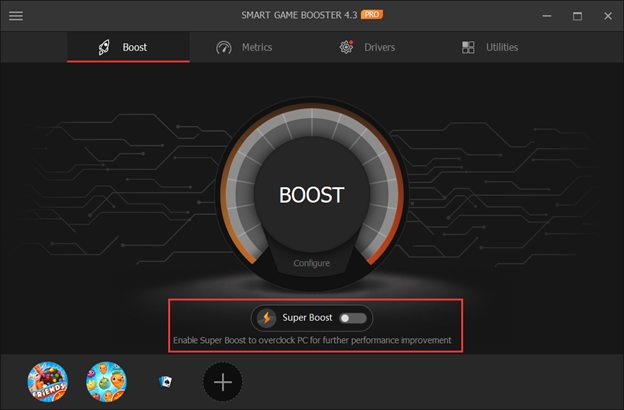 tips
Make sure the below "Super Boost" is enabled. Only when it is enabled, can your GPU be overclocked. Or, you can click "Configure" under the big BOOST and tick Super Boost in the pop-up window.
Step 3. Monitor hardware temperature. Smart Game Booster also provide a feature to monitor the temperature of your computer hardware, including GPU, CPU, hard disk, motherboard as well as CPU fan.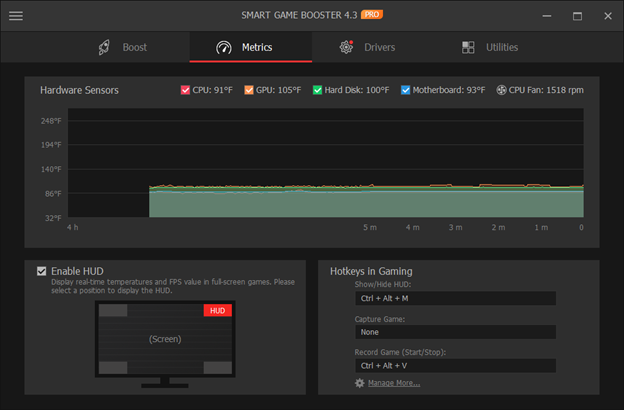 Therefore, you can easily know whether your GPU is overheated or not during overclocking. If it is, you can take actions in time.
Smart Game Booster 4
Overclock Hardware
Boost Game Speed
Monitor PC Temperature
Increase Game FPS
Windows 10/8/8.1/7/Vista/XP
The Bottom Line
To improve computer performance for playing games, overclocking is a good choice, whether to overdrive GPU, CPU or memory card. Yet, for most common users, it is the right choice to rely on third party professional tool to overclock PC. Smart Game Booster is recommended for doing overclocking work, it can overclock GPU of most popular brands, such as NVIDIA and AMD.