by Cindy | Jan 13, 2022
AMD Radeon series graphics cards have been popular among most users, especially gamers to have great visual effects on PC. Recently for a few weeks, AMD Radeon RX 5700 series graphics card users have been complaining about a black screen issue, they explain that the computer screen goes black suddenly when they are gaming, watching YouTube videos, browsing or using MediaPlayer.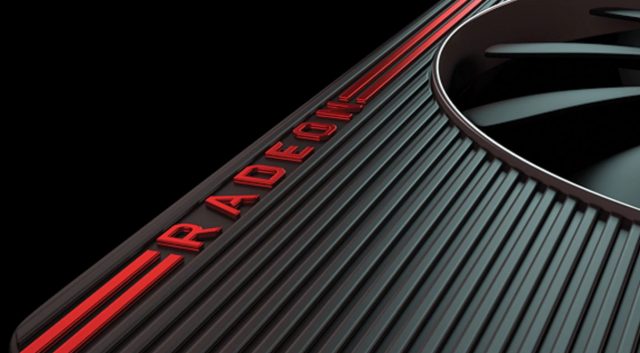 "I keep having Crashes in games and sometimes black screen where gpu doesnt recover without restarting the PC. (AMD drivers stops responding randomly while gaming (Display driver amdkmdap stopped responding))", a user posted on Reddit days ago.
In all these cases, the black screen issues victims said that only to hard reboot their computers can solve the problem.
According to this issue, AMD has stated and put forward to a temporary solution to get rid of this black screen bug in their community:
"Some Radeon RX 5700 series graphics users may intermittently experience a black screen while gaming or on desktop. A potential temporary workaround is disabling hardware acceleration in applications running in the background such as web browsers or Discord."
For more detailed information, please visit:
https://community.amd.com/community/gaming/blog/2020/01/31/continuing-our-focus-on-delivering-the-best-driver-possible-for-2020
Besides, AMD gives access to reporting bugs that aren't covered in the statements for their users.
Generally, compared with some more cases before, such kind of bug may be fixed in the next driver update. You can keep an eye on AMD Radeon graphics driver update to get the latest driver, or you can use a driver updater to help make the updates automatically.
Black screen of death errors can be caused by some other problems too. Sometime, users may face a black screen of death error under the following cases:
Case 1. Overheated;
Computer overheated is the most common-to-see reason that leads to a black screen of death error. To lower down your hardware temperature, you can end some unnecessary programs to release RAM. If the black screen issue appears from time to time, you may need to change the cooling system and fan for normal use.
Smart Game Booster can also help you monitor hardware temperatures in real-time. Once your computer is overheated, there will be an alert so that you can take measures before the temperature is too high.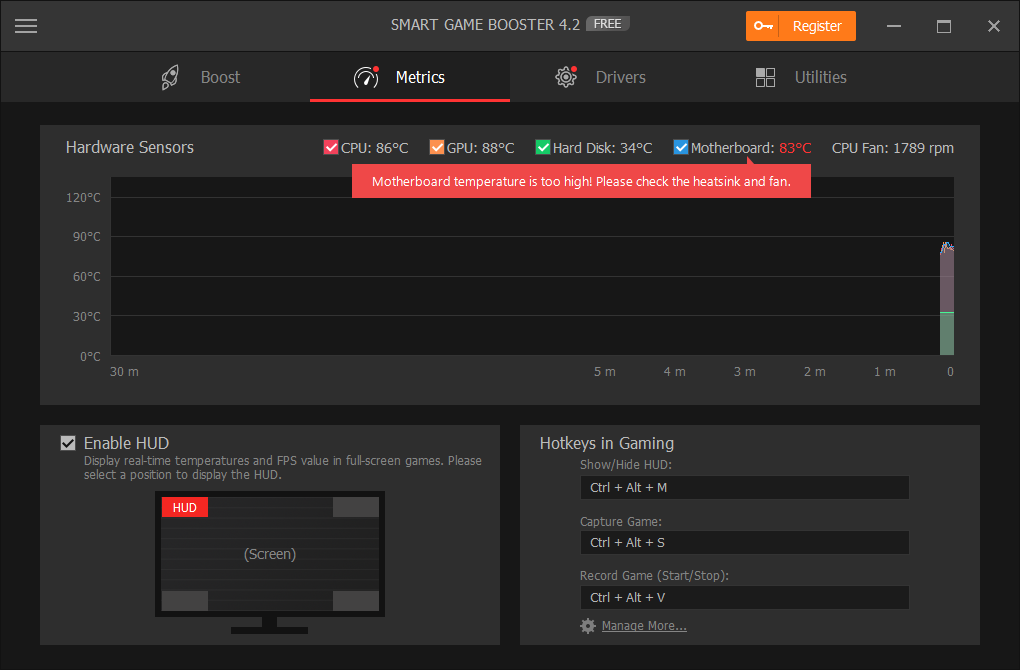 Case 2. Windows Update;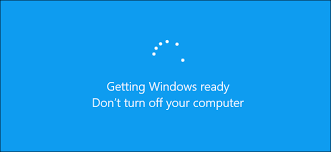 Windows update can cause issues sometimes when the system is not stable. Once the Windows update is incomplete or the setup gets stuck, the black screen of death occurs. In this case, you can choose to go back to the previous Windows version or just reinstall your system.
Case 3. Software or Driver Issues
If you are facing the black screen of death error after installing new software or driver, which is common to see for PC games or the media players are running in full-screen mode. Under this circumstance, you can try to adjust your computer resolution to see if this problem solves. Or you may need to uninstall the software or driver for system stability.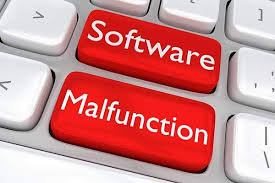 Case 4. Outdated Graphics Driver
Outdated graphics drivers can not only cause black screen of death, but also blue screen of death error. These 2 are both typical Windows system failures. To solve the problems caused by the outdated graphics driver, you need to update the driver. Common graphics driver brands include AMD, Intel, Nvidia, Dell and more. You can check for updates on the official websites. Or try the automatic driver updater.
Smart Game Booster can help to update your outdated AMD, Nvidia, Intel and more graphics drivers easily. It checks the graphics driver and audio driver regularly for better PC performance.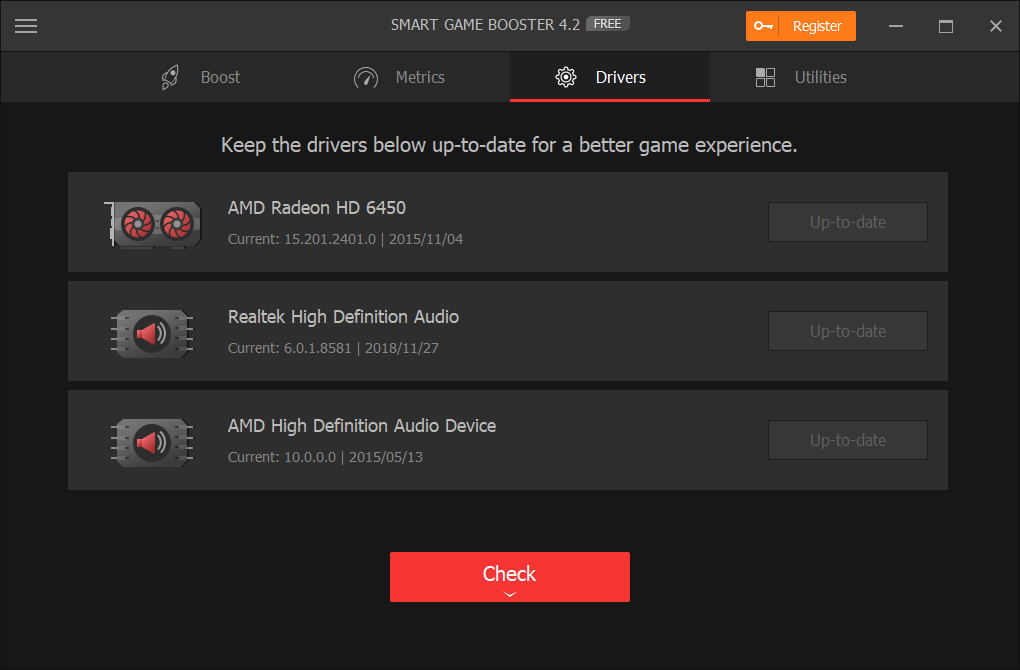 1. Free Download Smart Game Booster and run it;
2. Choose "Driver" and check your driver status;
3. Update all outdated drivers in one click.