by Jennifer | Jan 13, 2022
Released in 2012, Counter-Strike: Global Offense is offering you a Multiplayer First-person Shooter video game by Valve and Hidden Path Entertainment. The game pits two teams against each other and the last remaining team will be considered as winning team. Both sides are tasked with defeating the other while completing assigned objectives. When you play as a terrorist, depending on the chosen mode, you must either plant a bomb or defend hostages, while as a part of Counter-Terrorists you must either defuse the bomb or save the hostages.
If you're new to this game, you should be amazed to know that there are nine exciting game modes and all of which have different characteristics. In 2018, a Battle Royale mode was launched "Danger Zone", which throws players on a shrinking zone where only the last standing player will win the match. Nowadays, playing CS: GO is quite difficult because of hardcore players who won't show mercy on newbies. Therefore, we jump in to help you in ranking up your rank to obtain new abilities and weaponry.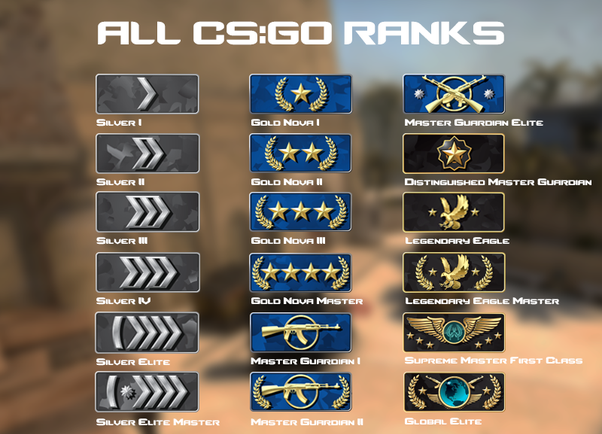 Counter-Strike: Global Offense Ranking System
·         Silver I
·         Silver II
·         Silver III
·         Silver IV
·         Silver Elite
·         Silver Elite Master
·         Gold Nova I
·         Gold Nova II
·         Gold Nova III
·         Gold Nova Master
·         Master Guardian I
·         Master Guardian II
·         Master Guardian Elite
·         Distinguished Master Guardian
·         Legendary Eagle
·         Legendary Eagle Master
·         Supreme Master First Class
·         The Global Elite
To achieve the first rank in Counter-Strike: Global Offense, you will have to make required Experience Points from casual matches. Once you earned the milestone, the game grants you access to Competitive or Ranked Matchmaking. After dominating ten challenging competitive matches, you become able to obtain your first rank. Although the game sets a limit on specific games you can play to win each day, the cap is being set to two wins only. A bit annoying, but the power will be lifted once you achieved your rank.
Ranking Method
The rank level of your character can be increased or decreased every round, depending on your statistics. Losing round won't cause you to lose a rank; however, the system is specially designed in a way that over time, you should be on an average win of 50% of the time. Keep losing rounds mean, you will be thrown in a lower skill group rank. There's another thing that you should need to know that winning against other players in higher rank groups will be in your favor than winning matches against equal skill groups. Continuously winning and keeping yourself on the leaderboard will highlight you ahead of the system and it will put you against higher-ranked players because of your high winning ratio.
What is a Skill Group in CS: GO? 
Similar to an Elo Rating found in Chess, Counter-Strike: Global Offense offers a system that predicts how players will perform during a match against other players. It means, two equally skilled teams should dominate the equal number of matches when fighting against each other, on average.
How do you get a rank?
If you're a noob to CS: GO, you may require to set aside some time to achieve your stripes. The game introduces a level system that ranges from 1 to 40 and is only considering to use as a rewarding system for giving you cosmetic skin drops and service medals as well. As mentioned above, to unlock a competitive matchmaking system, you require to achieve the first two levels by dominating game modes like Casual, Arms Race, Demolition, or Deathmatch. Having level 2 will leave you access to Matchmaking, where you found some hardcore players with high CS: GO Ranks.
Why Rank Level isn't showing? 
You should know that your rank level won't be displayed until you have conquered 10 competitive matches. After that, you will be thrown in a blend of several games with other players of different ranks. If you're playing with a new account, then the game restricts you to two competitive wins per day until you approach your 10th.
Being a separate mode from Competitive, Wingman follows the footsteps of that on a similar ranking system, placing players against each other in one of three groups. After playing, you will discover that your wingman rank is a bit higher than your Competitive Rank.
Trust Factor is a system that makes sure that you're connected with your teammates that are similar to you. In simple words, if you are serious about your play, the system will try to find the best players for you with the same mindset. The majority of players don't know about that system, and upon asking they will reply to the same words. If you have a new Steam account, there are lots of possibilities that the Trust Factor system score will be the lowest. Having a five years old account will put you to a different category, because of your high trust rank.
It'sthe latest feature of CS: GO, offering you an additional layer of legitimacy and defend you as a player. The system is supposed to discover verified new players finding new accounts and those who received a VAC Ban. Prime Matchmaking is a system that only Prime account holders can activate in competitive lobbies. You can navigate the world from a first-person and can participate in several matches according to your skills. The game will rank up your level as you fulfill the requirements and will be granted you as ten matches will be dominated.