by Jeremy | Jan 13, 2022
Especially for gamers, keep drivers as up-to-date as possible will ensure the fewest bugs and the best performance & experience.  If your PC is running on Windows 10, then here is how to update drivers. Of course, you can enable automatic Windows Update that downloads and install the latest drivers for you automatically. Since updating drivers may cause problems with your computer, like No Sound Issue after Driver Update, many of you still like to update PC drivers manually. Let's check the following article, and see how to update drivers on Windows 10.
 Update Drivers in Device Manager
The most direct way to update drivers is to make full use of the built-in tool: Device Manager on your Windows 10 PC. Go to Device Manager (enter "device manager" in the search box on the task bar), open a category and you can see all the devices listed, right-click the one that you would like to update, and select "Update Driver" > "Search automatically for updated driver for software". In this way, you can check and update drivers one by one.
Update Drivers via Windows Update
If you have a bulk of drivers need to be updated, then this way is recommend: update drivers via Windows Update. Besides, you can also get updates for your operating system. Here it is: go to Settings > Update & Security > Windows Update, and click "Check for updates". If updates are available, Windows will download and install them automatically.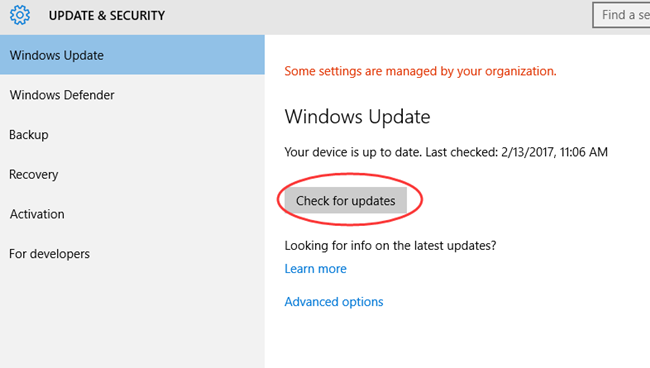 Some of you may confront with Windows Update error 0x80070422, the most common issue for this part, after clicking "Check for updates" button. According to answers.microsoft.com, you can try to change the Windows Update service settings to get this issue solved. 

Firstly, logged on as an administrator:
·         Open Administrative Tools (in Control Panel)
·         Double-click Services
·         Find the Windows Update service, right-click and choose Properties
·         General > Startup > select Automatic
·         Move to Service status, check and make sure the service is started
Download Drivers from manufacturers' websites
If you are so sure about which drivers need to be updated, a safe way to update drivers is to download the latest drivers from manufactures' websites, especially when you have multiple outdated drivers from the same provider. Go to Device Manager, right-click the driver that needs updating, then click "Update driver", choose "Browse my computer for driver software" and open the driver file you download from the manufacturer's website.
Update Nvidia/AMD Drivers Manually
There has different ways to update some specific drivers like Nvidia graphic drivers or AMD graphics drivers. Especially for gamers, graphics drivers need to be updated on a regular basis for performance and stability improvements. For example,
·         Nvidia graphics drivers: go to Nvidia's GeForce Experience program > Drivers, and new drivers are available to download
·         AMD graphics drivers: go to AMD Radeon Settings. It will show "New Update" if new drivers are available
Free Driver Updater Tool
Another great way to update drivers on Windows 10 is to take advantages of free driver updater tools like IObit Driver Booster. But if you are gamers, we recommend you to go with this one. Smart Game Booster's free driver updater can detect and update your outdated audio drivers and graphics drivers to make your gaming experience better and smoothers. With it, you can update drivers that you want to, or update all drivers with 1 simple click.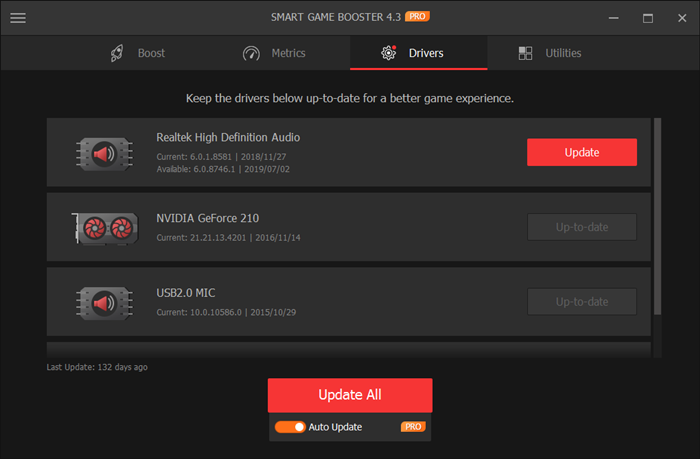 Smart Game Booster 4
Overclock Hardware
Boost Game Speed
Monitor PC Temperature
Increase Game FPS
Windows 10/8/8.1/7/Vista/XP