by Jeremy | Jan 13, 2022
Especially for gamers, the Android emulator offers a way that you can play Android-specific games on a much larger screen. So, to get better gaming experience and performance, it would be great to run an Android emulator on the PC or laptop. In this article, we put the emphasis on the best Android emulators for Windows, and let's check it one by one.
1. BlueStacks - the Best Android Emulator
No doubt, BlueStacks is the best Android emulator, which is available on both Windows and Mac platform. It gives your computer the ability to run millions of Android games, and let you enjoy the best of Android gaming on PC. Generally, BlueStacks Android emulator contains all the necessary and some other better features that you expect.
For example, its Android emulator has game controls, shooting mode & MOBA mode (helps improve your aim and reaction time, as well as cast different skills with mouse & keyboard), multi-instance, Macros, farm mode (for optimizing your PC usage, especially when running multiple instances), real-time translation, high FPS, faster rerolling and etc. You can also take advantages of its utility features to get better Android game experience on Windows.
 The current Bluestacks runs the Android 7.1 copy, besides, it has joined forces with Samsung to bring mobile games on the Galaxy Store to PC. Bluestacks Android emulator gives you access to play any Android games on Windows, and with superior performance guaranteed. If you are looking for the best Android emulator, go for Bluestacks, and it's free.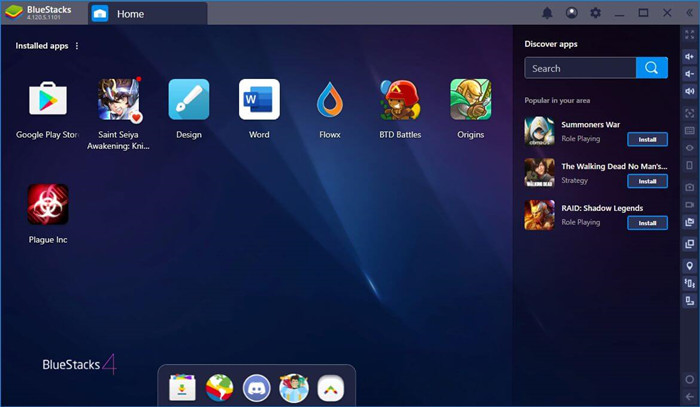 2. LDPlayer - Your Android Gaming Platform for PC
Here is LDPlayer, one of the most popular Android emulator for Windows. The latest LDPlayer is based on Android Nougat (7.1.2); also an available version for Android 5.1, and it is optimized for better compatibility and gaming performance. With our test configuration, LDPlayer Android emulator runs flawlessly and comfortably on both Intel-based and AMD powered Windows computers.
LDPlayer solid Android emulator offers comprehensive features and can fulfill most tasks you require from an Android device. You are able to download your favorite Android apps and games from Google Play or pre-installed LD Store, complete Android experience. Of course, LDPlayer covers gamer-oriented features, including custom control so that you play Android games with mouse and keyboard; multi-instance, multi-instance sync; Macros/Scripts, as well as high FPS/graphics to power up your gameplay. Now, you can download LDPlayer free Android emulator, and enjoy Android games from your Windows PC.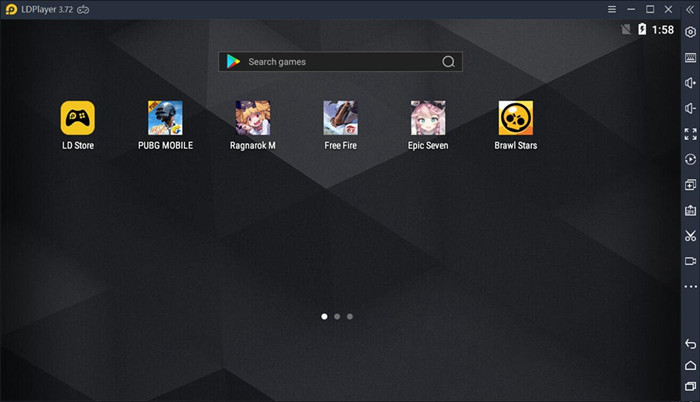 3. MEmu Play - Powerful Android Emulator
As one of the best Android emulators, MEmu Play ensures you enjoy millions of Android games like PUBG Mobile, Call of Duty Mobile, Garena Free Fire and etc. on your PC directly. With a bigger screen, keyboard and mouse, you gain much better Android gaming experience. This Android emulator program is based on Android 7.1.2 by default (Kitkat and Lollipop are supported as well), and it supports both AMD and Intel chipsets.
Free download MEmu Play, you'll be able to take advantages of its great features: smart control, multiple instances, stunning graphics and etc. When you are looking for Android emulators, take MEmu Play into consideration. It not only allows you to free to play any popular Android game on your Windows PC, but also ensures brings you the fastest gameplay and extreme frame rates.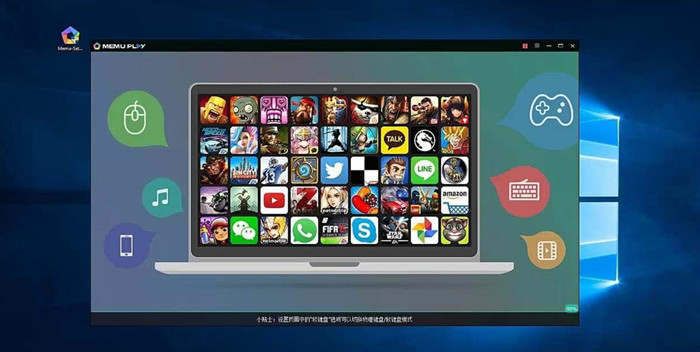 4. NoxPlayer - Easy-to-use Android Emulator
NoxPlayer Android emulator is another great option for playing mobile games on PC, with powerful new Android 7. Due to its clean interface, users, especially for those beginners, it's easy to get started, and then you become a pro mobile gamer quickly. As for the performance, NoxPlayer Android emulator is well-developed, ensuring you smoother and more stable for applications as well as games.
Features that you expect are all included. By using NoxPlay Android emulator, you can run multiple instances at the same time to play more games; record your complex operations and execute the script with a single click, and 1-click keyboard mapping control. You see, many features and settings can be set only with few simple clicks. This is one of the biggest advantages among Android emulators.
5. Remix OS Player - Stable Android Emulator
Compared to other Android emulators, Remix OS Player is quite new for Windows PC. But don't worry, this Android Player is based on Android Marshmallow, and it utilizes the latest Android technology, and can completely guarantee you smooth emulator experience and uncompromising compatibility.
So, if you feel your Android phone isn't enough, free download Remix OS Player and play Android games on PC. In addition to the impressive stable performance, Remix OS Player provides you with dozens of useful emulator features: manual settings for signal strength, button mapping, and native Google Play support and more. Anyway, this Android emulator is worthy to try.